RETURN TO >> www.humbugfarms.com >> High Spirits Fund
Remembering Jake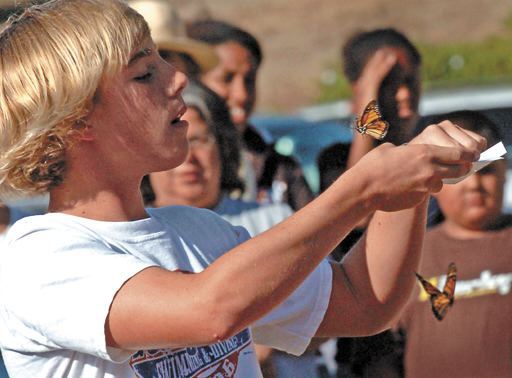 At a memorial for his 12-year-old brother, Jake, Sam Boysel, 15, releases one of 50 monarch butterflies. Dozens of friends and relatives gathered at La Colina Junior High, below, to honor the multi-talented youth whose magnetism made him many friends.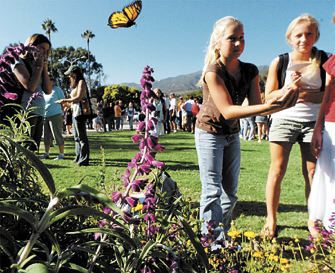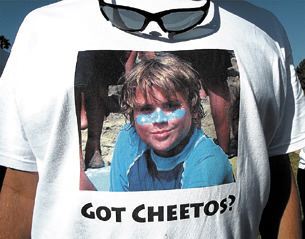 At the memorial events for Jake Boysel, students and friends wore "Jake T-shirts" bearing a recent snapshot of the seventh-grader. One friend added "Got Cheetos?" to commemorate Jake's favorite snack.

RAFAEL MALDONADO/NEWS-PRESS PHOTOS
September 16, 2006 7:09 AM
Friends and relatives of Jake Boysel gathered Friday to honor the dynamic life of a "proverbial great guy" who died last week after being struck by an SUV as he bicycled to school.
At La Colina Junior High School, where 12-year-old Jake started seventh grade three weeks ago, several dozen students and friends released 50 monarch butterflies after sharing stories about the boy they remembered as academically gifted, extroverted and athletic.
In short, he had it all, they said. At a sprawling Goleta Beach cookout following the butterfly launch, more than 100 people gathered to commemorate Jake's many passions, from surfing to friendship to learning -- and just living life.
"He could have been anything he wanted," said Rachelle Ingram, an aide at Foothill elementary school, where Jake graduated earlier this year.
Karen Pickford, the school's librarian, remembered Jake for his frequent visits to the book stacks. She said he would drop by just to smell the books.
"He wanted to be an author," Ms. Pickford said. "He loved books so much. He would come into the library during recess and read." Others described a magnetism in Jake that drew friends by the flock.
Megan Goddard, Jake's instructor in the Junior Lifeguard program last summer, used to call him "Mr. Ringleader" because other kids looked up to him so much.
"He was probably one of the most outgoing kids his age that I've ever met," Ms. Goddard said.
Few mourners at either memorial dwelled on the accident that ultimately claimed Jake's life, the Sept. 6 collision that occurred while Jake pedaled east on Calle Real, before the road intersects with Highway 154. Ernesto Landeros Botello, 24, whose SUV overtook Jake and struck him from behind, has said the glare from the sun impaired his vision.
As a result, many residents have raised concerns about traffic safety and want to see the road's 45-mph speed limit lowered.
"If anything comes out of this, I hope people slow down," said Ms. Pickford. It's so frustrating."
But none of those concerns impeded the central thrust of the day's events -- honoring Jake's life.
Besides ball-playing children, fingerpaints and barbecue fixings, celebrants at the beachside memorial brought hundreds of candles to light at sundown and place in the sand.
"I've never seen anything like this in Santa Barbara," said Jan Tornquist.
At La Colina earlier in the day, Jake's brother shared that sentiment in his speech before the butterfly release.
"He brought this whole community together," said Sam Boysel. "He was just amazing."
While Jake had many friends at La Colina, students from across the area descended on campus for the release, some of them wearing T-shirts emblazoned with his visage.
"This memorial was for the kids," said La Colina counselor Frann Wageneck. "We did this because Jake's friends wanted it."
Standing near the school's library, where the released butterflies mingled in a nearby wildflower garden, Principal David Ortiz described Jake as a "proverbial great guy," multi-talented and well-liked.
Despite Mr. Ortiz's 16 years at the school, Jake's story seemed to shake the seasoned veteran.
"Everybody's important, but when it happens to a youngster like that, there's a whole different meaning," Mr. Ortiz said.
e-mail: bmcmanigal@newspress.com